ASTRONOMER DETECT FIRST OF IT'S KIND MYSTERIOUS RADIO SIGNAL FROM DEEP SPACE
A brief burst of radio sent from an unknown source across the universe has been picked up by the state-of-the-art CHIME telescope in
Canada
. The signal, known as a Fast Radio Burst (FRB), lasted only a matter of milliseconds. Researchers claim the signal is the first radio emission received from across the universe with a frequency below 700 MHz – the lowest frequency FRB ever recorded.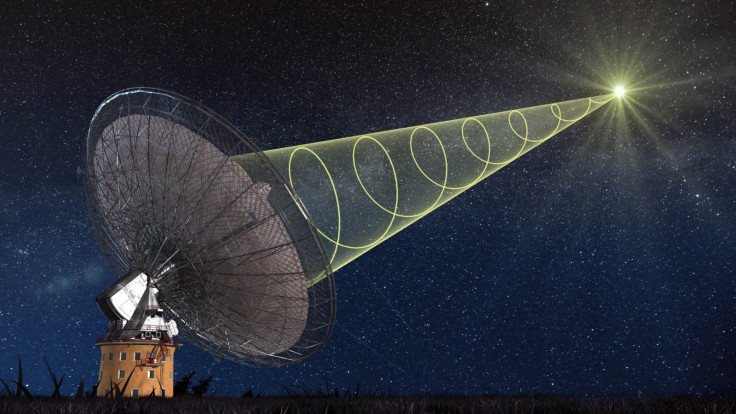 As a result, scientists believe that whatever produced the signal, which has been branded 'FRB 180725A', is likely to be extremely powerful. FRBs are extremely uncommon, with the abrupt radio emissions first discovered in 2007 and only two dozen examples recorded since. Experts are still investigating what causes FRBs, with possible explanations including exploding black holes and advanced extra-terrestrial civilizations.
The radio emission was first detected by the Canadian Hydrogen Intensity Mapping Experiment (CHIME) telescope, which has been in operation for less than a year. The FRB was detected by CHIME's expansive, four 100-meter-long (328ft) U-shaped cylinders on July 25 2018. CHIME is designed to be able to record signals sent when the universe was between 6 billion and 11 billion years old.
The short burst of radio waves detected by the state-of-the-art Canadian Hydrogen Intensity Mapping Experiment (CHIME) telescope
Christopher Conselice, a professor of astrophysics at the University of Nottingham, told MailOnline this discovery could help to pave the way for a greater understanding of what causes FRBs.
"We don't know their origin, they could be caused by a number of things," he said. "The fact the lower frequency FRB has been detected provides hope that we can understand more about where they come from and what causes them. They could be caused by exploding stars, supernova, and exotic stars like pulsars, magnetars, neutron stars or massive black holes at the centre of distant galaxies. It could even be some other physical mechanism that we don't yet understand."
The telescope that discovered the mystery signal is the Canadian Hydrogen Intensity Mapping Experiment (CHIME, pictured) which has been open for less than a year
Patrick Boyle, of McGill University, first reported the detection of the low-frequency FRB with a post on the astronomical publication 'Astronomer's Telegram'.
The post reads: "During its ongoing commissioning, CHIME/FRM detected FRB 180725A on 2018 July 25 at 17:59:43.115 UTC (18:59:43.15 BST/13:59:43.15 ET). The event is clearly detected at frequencies as low as 580 MHz and represents the first detection of an FRB at radio frequencies below 700 MHz."
Professor Conselice told MailOnline that FBRs likely happen regularly, and probably reach Earth thousands of times a day. Until now however, human tools have only been able to detect the highest energy emissions. He said that CHIME's highly-sensitive tools made the discovery possible, and the short bursts of radio waves will become more commonly spotted as technology improves. According to researchers at CHIME, whatever produced the signal in the depths of space is likely to be extremely powerful.
With its U-shaped cylinders made of metal mesh, experts have compared CHIME (pictured) to the half-pipes used by snowboarders and skateboarders. The radio signal it detected has been named FRB 180725A and is the first to be detected below 700 MHz
Whatever the source, it has produced the signal a number of times, scientists say. Research into FRBs is still in its infancy, with the first signals detected less than a decade ago. Since then, a mere two dozen FRBs have ever been detected from Earth, meaning there is little prior research for scientists build on.
"

Fast radio bursts are exceedingly bright given their short duration and origin at great distances, and we haven't identified a possible natural source with any confidence." said Avi Loeb, of the Harvard-Smithsonian Center for Astrophysics research institute. "An artificial origin is worth contemplating and checking."
The mystery around these signals stems from the fact that scientists cannot yet pinpoint what is capable of producing such a short and sharp radio wave burst.
Mr Boyle adds: "Additional FRBs have been found since FRB 180725A and some have flux at frequencies as low as 400 MHz. These events have occurred during both the day and night and their arrival times are not correlated with known on-site activities or other known sources of terrestrial RFI (radio frequency interference).'
CHIME is 'half-pipe' design radio telescope that contains four 100-meter-long (328 foot) U-shaped cylinders, allowing it to detect signals from when the universe was between 6 and 11 billion years old.
"With the CHIME telescope we will measure the expansion history of the universe and we expect to further our understanding of the mysterious dark energy that drives the expansion ever faster," said Dr Mark Halpern, of the University of British Columbia. "This is a fundamental part of physics that we don't understand and it's a deep mystery. This is about better understanding how the universe began and what lies ahead."
The £12.2 million ($16 million) in funding, CHIME sits in the mountains of British Columbia's Okanagan Valley at the NRC's Dominion Radio Astrophysical Observatory near Penticton. With its U-shaped cylinders made of metal mesh, it resembles the half-pipes used by snowboarders and skateboarders. Its unique design, coupled with advanced computing power, will serve as a 'time machine' to peer deep into the history of the universe. This could help scientists to better understand the history of the universe, mysterious fast radio bursts, and the detection of gravitational waves.
"

CHIME's unique design will enable us to tackle one of the most puzzling new areas of astrophysics today – Fast Radio Bursts." said Dr Victoria Kaspi from McGill University. "The origin of these bizarre extragalactic events is presently a mystery, with only two dozen reported since their discovery a decade ago. CHIME is likely to detect many of these objects every day, providing a massive treasure trove of data that will put Canada at the forefront of this research."
CHIME will collect radio waves with wavelengths between 37 and 75 centimetres. This, according to the researchers, is similar to that used by cell phones, and will allow the telescope to pick up on extremely weak radio signals from the universe. Most of these signals come from the Milky Way, but, some began their journey billions of years ago.